Ultimate Paper Box Expands Commitment to Quality with Second V3000LX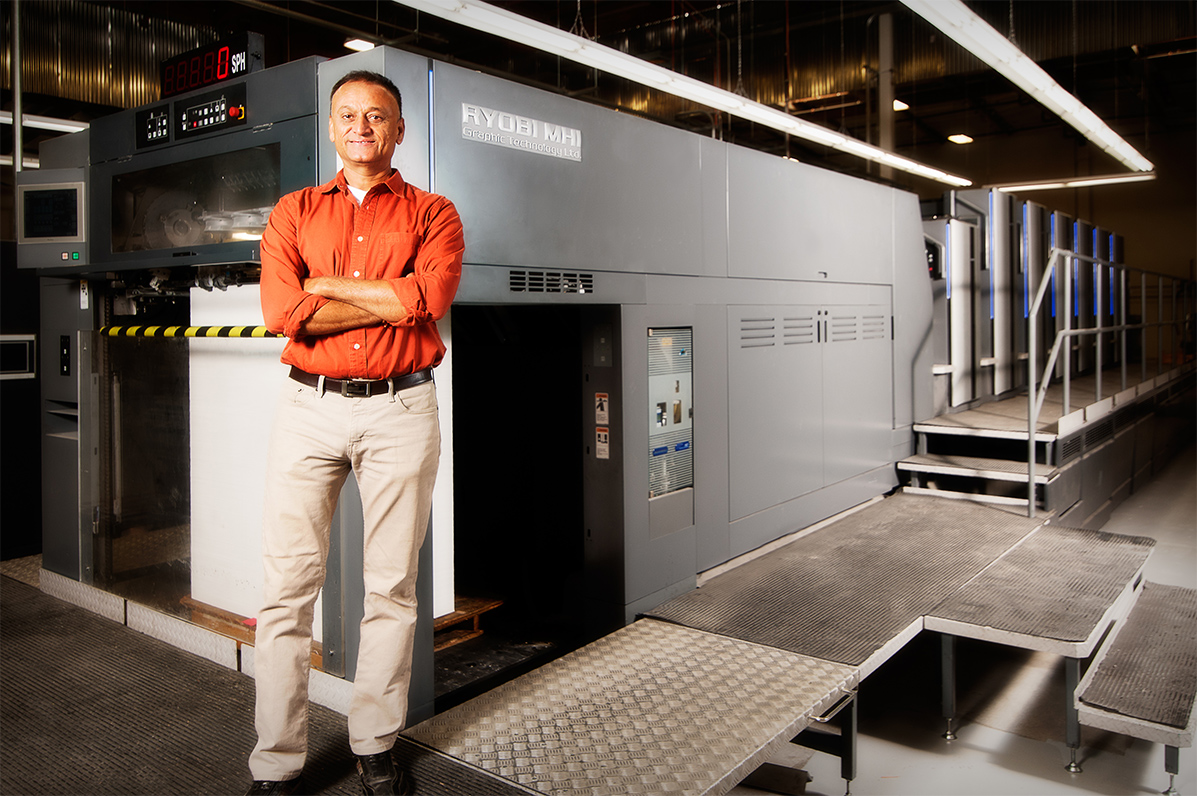 Ultimate Paper Box's installation of a second RMGT V3000LX from RM Machinery (RMGT) affirms the California company's commitment to continuing investment in state-of-the-art capital equipment.
A well-respected manufacturer of folding cartons and litho labels, Ultimate Paper Box was established in 1995 by Janak Patel. The company added a second company, Ultimate Flex, in 2013 to serve the flexible packaging market. The two companies employ 130 people.
Located in City of Industry, California, Ultimate's reach extends across the United States with a lengthy list of markets served ranging from coffee, tea and snack foods through household goods, industrial, hunting and fishing supplies, and hardware. "We cater to all kinds of industries," said owner Patel. "The food industry, cosmetic, pharmaceutical, and electronics are the major ones for which we supply packages."
He speaks positively of how the presses uphold Ultimate's high quality production values. "The second RMGT V3000LX press has been up and running on our floor for six months now and I can't say enough about its benefits," he said.
"The V3000LX is designed for very high end print. We are a G7 certified printer so all our products are high end. That's exactly what these presses produce for us. They help us maintain our philosophy of continued improvement throughout our print production," he said.
For Ultimate the first machine proved its reputation as a very reliable press. "It's a workhorse that just keeps on running. You can run those presses 24 hours in your sleep — no problem. When Mitsubishi teamed up with Ryobi, they improved the machine and it only got better. It's a nice looking machine as well," he added.
RM Machinery Inc. is the exclusive authorized distributor of V3000 sheetfed offset presses manufactured by RYOBI MHI Graphic Technology Ltd.
The substrate versatility that the V3000LX provides is an important factor to Patel who said, "We'll go 80 lb. paper stock for the little labels all the way up to 24 pt. The press accommodates that wide a range in the thickness of the paper."
The V3000LX also proved a good match for Ultimate's variable run lengths. "For cosmetic or pharmaceutical, normally the runs are 10,000 to 25,000 sheets — not too long. And on the food industries we go up to a million and more," he said.
Printing speed loomed large as another important purchase factor. "This press is designed for better than 16,000 sheets an hour. So we can run our average of 13,000 to 13,500 sheets per hour easily," he said.
Reduced make-ready time is a sure-fire winner in the printing industry, and Patel found just what he was looking for in the presses he chose.
He explained, "The automated plate changing keeps make-ready time minimal. For our four-color to six-color jobs, the RMGT V3000LX normally takes about 25 to 35 minutes to do the make-ready, to get up and get running." This is in contrast to its older presses that required a minimum of an hour to an hour and 20 minutes make-ready time, color registration and start-up. "It's a huge savings in time."
Engineering and design components on the presses keep Ultimate up to G7 certification standards all the way from proofing to print. The scratchproof and smudge-proof transfer produces consistent clarity, and the air showers positioned above the impression cylinders prevent extraneous markings on the finished product.
He said that the gripper height adjustment device and individual air chamber is a smart improvement. "It's a better design for a wide range of thicknesses like we have, running 70-80 lb. paper and going up to 24 pt., which helps prevent jams and that kind of thing."
The presses' innovative air management ensures smooth sheet travel while skeleton cylinders prevent scratches and smearing when printing on thick sheets by keeping printed sheets from coming into contact with the cylinders. This successful printing pro appreciates those features and more. "Also you don't get any kind of variations, any kind of bouncing on print quality," he said. "There's clarity all the way through on all the units. It's highly consistent."
"The V3000LX, for the price, is a very nice press that can run on a true 40 in. format. Print cost on the jobs makes it very viable in our highly competitive business. It's amazing. You can run those presses 24 hours without any problem."
"I'm very pleased with the installation and the service," said the forward-thinking business owner. "The printing industry is a great industry and I'm happy to be part of it."
RM Machinery Inc. (RMM) is the exclusive authorized distributor of RMGT 10 and RMGT 11 sheetfed offset presses manufactured by RYOBI MHI Graphic Technology Ltd. and web offset presses manufactured by Mitsubishi Heavy Industries Printing & Packaging Machinery, Ltd. RMM is dedicated to creating new benchmarks in print solutions.
RMM supplies parts and award-winning service for new RYOBI MHI presses and the existing Mitsubishi sheetfed press base in the United States, as well as commercial web and newspaper presses manufactured by Mitsubishi Heavy Industries.
The RMGT V3000LX epitomizes Ryobi MHI Graphic Technology's commitment to productivity and operability.
Substrate versatility and peak printing speed of 16,200 sheets per hour give the LX press a perfect track record in the production of commercial projects, standard folding cartons, posters and point-of-purchase displays.